with a community of influencers
You want more User Generated Content for your food company, but you dont know how to achieve this?
You wish you had gorgeous pictures of your products, but you dont have the budget to do monthly photoshoots.
You would love to develop cool and interesting recipes with your product to inspire your customers, but you never have the time!
You want to plan your IG feed ahead of time, but somehow you never have enough content.
I totally get it! I've been in your shoes. As an entrepeneur I know that you have plenty to do, from product development, sales, marketing, administration, networking? The list goes on, and on! You know that IG is important, but you just don't have the time or budget to generate the content, so maybe you should just post every once in a while?
I have a better solution for you, promise!
I wrote a very personal ebook based on my experience, so that you can Boost your Brand!
This past year I have been getting DM's on Instagram, as well as emails from more and more (food) business with questions about my ambassadors program. Questions about how I find the right ambassadors, what I offer them in return. And lots and lots of comments about how they think my Instagram feed @naturallygranola looks so great. My feed consist mostly of ambassadeurs that I work with! So endless content is definitely one of the bonus points. After two years of collaborations I decided to share what I've learned.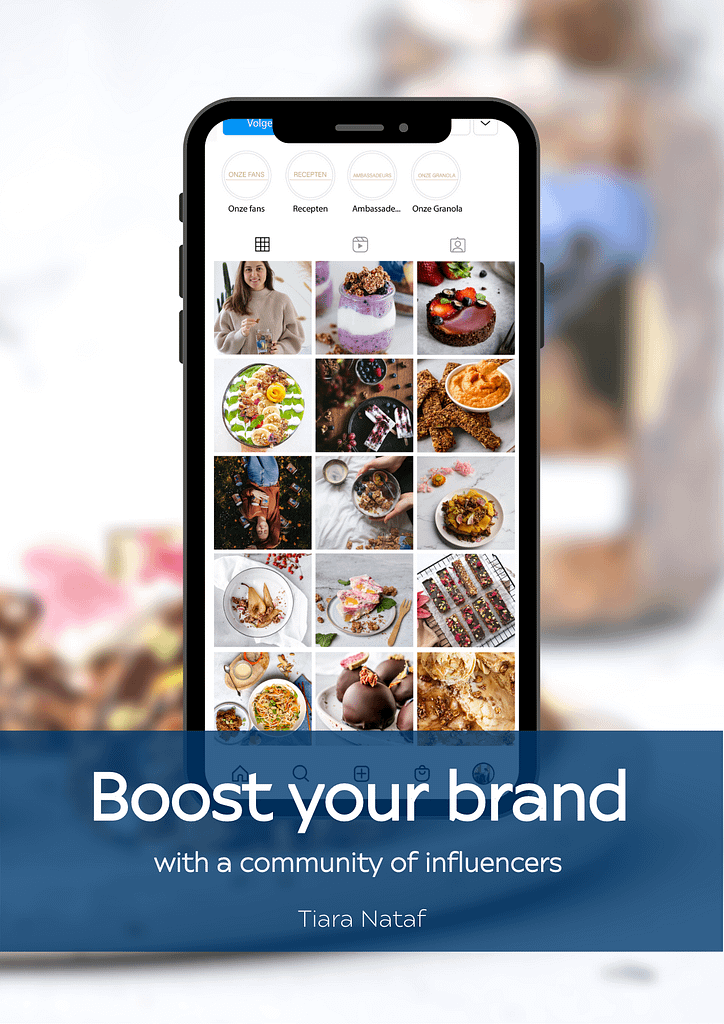 This e-book consists of seven modules, with a few extra bonus chapters at the end. In these modules you will learn everything about ambassadors, what ambassadors are, how to find the right ones for you, how to both get and give the most possible value.
Module 1 - What are ambassadors?
Module 2 - Why you should work with micro influencers
Module 3 - Why Instagram?
Module 4 - What your ambassadors can do for you (food) brand
Module 5 - How to find the ideal ambassadors?
Module 6 - What are the agreements you make
Module 7 - What's in it for them?

BONUS 1 - Keep your ambassadors up-to-date and super loyal
BONUS 2 - How do you keep them motivated?
BONUS 3 - My mistakes, your learnings!

Appendix I - My NG ambassadors agreements
Appendix II - NG Ambassadors Database
Appendix III - Assignments to get you started with your own ambassadors program
Still not sure if this is for you? Contact me through the chat function on the bottom right of the screen and I'd love to help you figure out if this is for you!